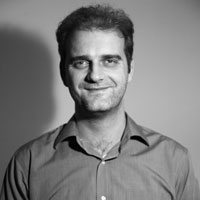 Niko Popitsch
---
I am currently working in Jenny Taylor's group at the Wellcome Trust Centre for Human Genetics, see my current website for a more up-to-date research profile.
Research Interests:
Analysis and management of next generation sequencing (NGS) data

Compression of NGS data
Methods and algorithms for NGS data management, analysis and manipulation

Semantic data organization

Linked Biological Data
Semantic information systems
---
Short Vita:
Education:
2007 - 2011: University of Vienna, computer science, Dr. techn. (PhD)
2005 - 2012: University of Vienna, molecular biology, Mag. rer. nat. (M.Sc.)
1994 - 2000: Technical University of Vienna, computer science, Dipl.-Ing. (M.Sc.)
Professional Experience:
since 2014 : High-throughput sequencing bioinformatician at the Wellcome Trust Centre for Human Genetics (WTCHG)
2011 - 2014: Post-doctoral researcher at the Center for Integrative Bioinformatics Vienna (CIBIV)
2007 - 2011: Research assistant, multimedia information systems (MIS) group at the University of Vienna
2003 - 2007: Senior Researcher/Chief Software Engineer, Austrian Research Centers GmbH, Research Studio Digital Memory Engineering
2001 - 2003: Senior developer, uma information technology ag
2000 - 2001: Junior developer, BLUE C Internet GmbH
Past and ongoing projects:
RG (since 2016) is a method for partitioning genomes into regions that can be genotyped with high/low confidence.
BBDB (since 2016) is a database of B. burgdorferi small RNAs
ARGOS (since 2014) is pipeline for extracting signals from a genomic sequence that characterize its repetitiveness.
CODOC (since 2014) is a format and API for the efficient representation and processing of depth-of-coverage data (complementing formats such as TDF or BigWig). It supports highly-efficient lossless and lossy data compression.
NGC (since 2011) is a compressor for high-throughput sequencing data (BAM files). It supports lossless and lossy compression.
NGV (since 2010) is a data set preprocessor and a desktop application for the visual inspection of next generation sequencing data.
Y2 (2007-2011) is an infrastructure for the efficient management of external metadata records on the desktop and in the Web of Data. Y2 was developed in the course of my doctoral thesis.
DSNotify (2009-2011) is a flexible event-detection framework that informs actors about various types of changes and allows them to maintain links to resources in distributed linked data sets.
Urobe (2009-2011) is a prototype for wiki preservation that implements a migration strategy for wiki contents based on Semantic Web and Linked Data principles. Urobe is the contribution of the University of Vienna to the digital long-term preservation project Research Studio Digital Memory Engineering.
Ylvi (2006-2008) is a semantic, multi-media enabled semantic wiki that was used for the realization of several individual projects. Examples include PoWiki, a specialized encyclopedia for political science terms, and EuWiki, a wiki and e-learning tool concerned with European Union-related terms.
METIS (2004-2007) is a flexible multimedia database foundation for the unified management of media of arbitrary types. It was used, among other projects, as a middleware component for the semantic wiki implementation Ylvi.
Degrees/Awards:
Dr. techn. (2011), University of Vienna
Thesis: Building Blocks for Semantic Data Organization on the Desktop
Mag. rer. nat. (2012), University of Vienna
Thesis: A Novel Compression Approach for Mapped High-Throughput Sequencing Data Sets
passed with distinction/mit ausgezeichnetem Erfolg bestanden.
Dipl.-Ing. (2000), Technical University of Vienna
Thesis: BIS-WCM: A WWW-based editorial and information system in support of the Medical Faculty of Vienna
"doc.award 2011", awarded by the University of Vienna/City of Vienna, 2011
"Certificate of Appreciation", awarded by the faculty of computer science, 2011
---
Publications
Find a complete list of my publications online at http://www.mendeley.com/profiles/niko-popitsch/
---
Addresses
Niko Popitsch

Center for Integrative Bioinformatics Vienna (CIBIV)
(CIBIV is a joint institute of Vienna University, and Medical University Vienna, Vienna, Austria)
Max F. Perutz Laboratories (MFPL)
Campus Vienna Biocenter 5 (VBC5), Ebene 1, Room 1812.3
A-1030 Wien, Austria
Phone: ++43 +1 / 4277-24024
Fax: ++43 +1 / 4277-24098
Email: niko.popitsch(AT)univie.ac.at


Postal Address:

Center for Integrative Bioinformatics Vienna (CIBIV)
Max F. Perutz Laboratories (MFPL)
Dr. Bohr Gasse 9
A-1030 Wien, Austria




---